Choosing between Invisalign and Braces
Two of the most popular orthodontic treatments currently available are traditional metal braces and Invisalign®. While both can address many of the same types of misalignments, each delivers unique benefits based on the specific needs of the patient. Drs. Charles D. Kirksey, Touraj Kamali, Milan Simanek, and our Fairfax, VA, dental team take time to ensure patients understand Invisalign vs braces so they can make a well-informed decision about their treatment.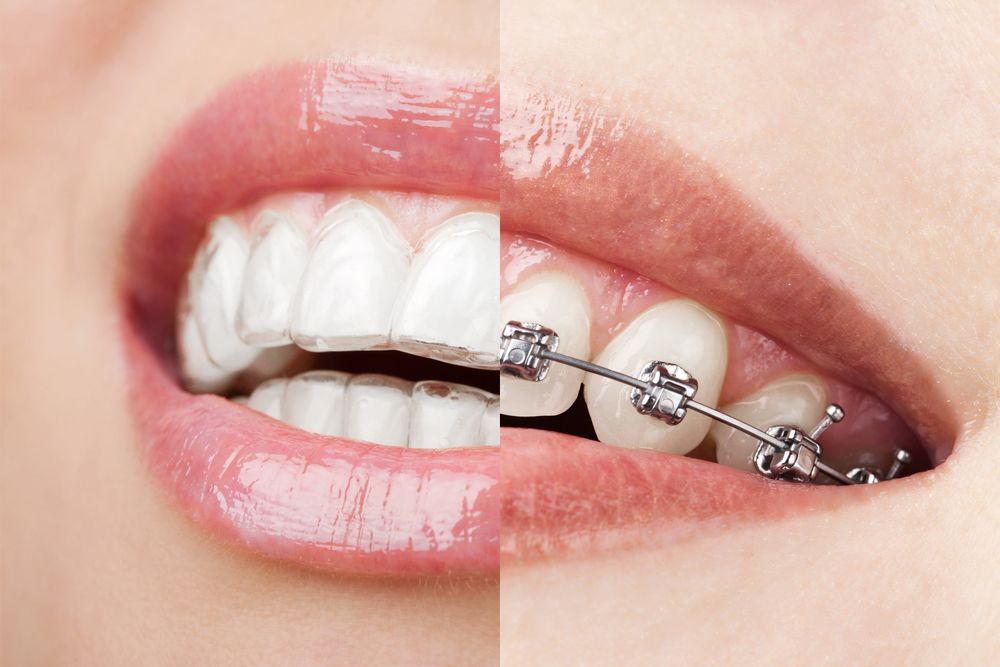 How the Treatments Overlap
Conventional metal braces and Invisalign both use gradual, steady pressure to shift the teeth back into alignment. They are both well-suited to correcting:
Overbites
Underbites
Open bites
Crossbites
Overlapped or crooked teeth
Tipped or rotated teeth
Gaps or spaces between the teeth
When it comes to cost, Invisalign and traditional braces are comparable. In fact, more and more insurance plans are offering coverage for both orthodontic options. At Fairfax Family Dental Care, we are proud to accept CareCredit® financing. This option helps our patients afford out-of-pocket costs with no-interest monthly payments.
How the Treatments Differ
Candidacy
While Invisalign can address many of the same issues as conventional metal braces, they are better suited to correcting mild to moderate orthodontic issues. Braces are still a more powerful solution and so are more often recommended for severe cases of misalignment.
Treatment Timeline
Orthodontic treatment timelines can vary considerably for every patient, no matter which option they choose. However, in most cases, you will need to wear traditional braces for at least 18 to 24 months, if not longer. In contrast, Invisalign treatment typically only lasts for 18 months at most.
Braces are still a more powerful solution and so are more often recommended for severe cases of misalignment.
Aesthetics
Invisalign is often favored just for its discreet appearance. Because the trays are clear and customized to your specific bite, they are virtually invisible. As a result, most people will not even know you are undergoing orthodontic treatment.
In comparison, traditional braces are much more noticeable. While patients can choose clear or tooth-colored elastics or brackets for a more natural appearance, they are not designed for aesthetics.
Comfort
Traditional braces straighten the teeth using metal components. The bands, brackets, and wires can easily aggravate the tongue, lips, and cheeks over long periods of time. While patients can use wax to cover the most irritating parts of their braces, treatment is still often uncomfortable. In contrast, Invisalign trays are completely metal-free. As a result, patients can avoid soft tissue irritation.
Removability
Metal braces are fixed. The brackets are bonded to the teeth and remain in place until orthodontic treatment is complete. Consequently, you will have to avoid certain sticky or hard foods to prevent damaging your braces. It can also make brushing and flossing your teeth much more complicated, leaving you more vulnerable to tooth decay.
However, Invisalign trays are removable. As a result, there are no dietary restrictions, and patients can brush and floss with ease. It is important to note, however, that the aligner trays must be worn for at least 22 hours every day to achieve the desired outcome.
Decide Which Option Is Right for You
Since 1986, Fairfax Family Dental Care has been providing top-tier care to our community. If you are considering orthodontic treatment for yourself or a family member, schedule a visit at our practice to explore your options. You can contact us online or give us a call at (703) 385-0303.