Custom-Designed Porcelain Veneers Can Rejuvenate Your Smile
Porcelain veneers
from our
Fairfax, VA
, practice can easily conceal minor cosmetic flaws, such as cracks, chips, and stains. While the results can be dramatic, the treatment itself is conservative and minimally invasive. At
Fairfax Family Dental Care
,
Dr. Charles D. Kirksey
,
Dr. Milan Simanek
, or
Dr. Touraj Kamali
will conduct a thorough consultation. At this appointment, we will assess your smile, review your
cosmetic dentistry
goals, and determine your candidacy for veneers. If they determine that porcelain veneers are right for you, we will carefully design your restorations to ensure a natural color and shape. We collaborate with a top-quality lab that uses advanced porcelain for beautiful and long-lasting results.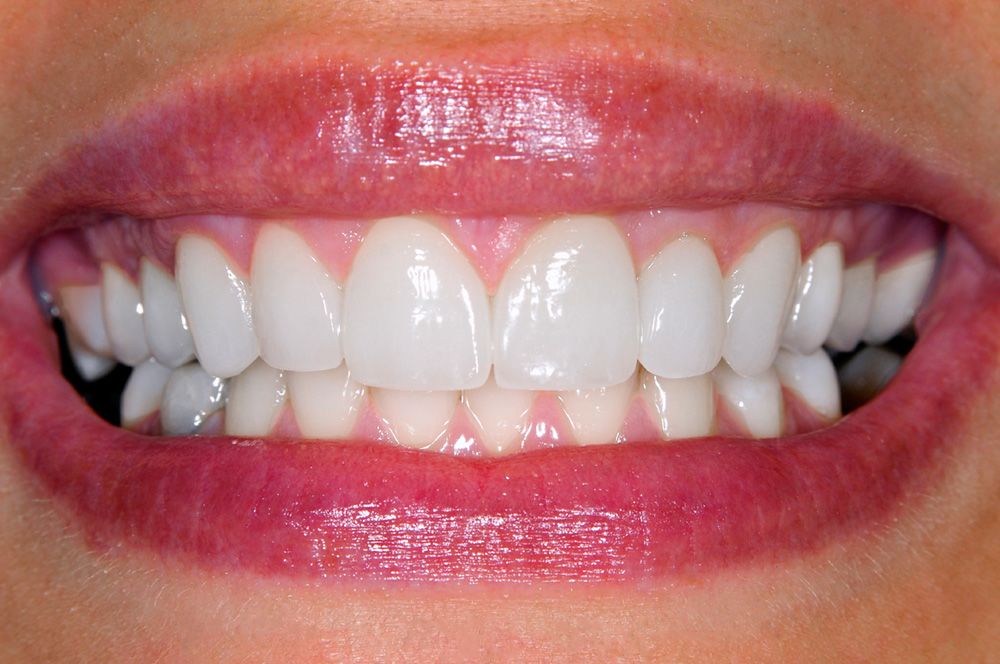 Are Porcelain Veneers Right for You?
Porcelain veneers can be an excellent solution for a number of cosmetic concerns, including:
Cracks and chips
Stains that do not respond to teeth whitening
Crooked or rotated teeth that do not affect the force of your bite
Small gaps between teeth
Irregularly shaped teeth
Disproportionately small teeth
To qualify for veneers, your teeth should be structurally sound. Previous decay may affect your candidacy since your teeth may not be strong enough for the preparatory process. To prepare your teeth for veneers, your dentist will need to remove a small layer of enamel. Therefore, if you have sustained significant enamel erosion, you may not be a candidate for veneers.
What Are the Treatment Benefits?
Veneers have become one of the most popular cosmetic dentistry options available today, and they offer a number of benefits:
Veneers placement is a minimally invasive procedure with negligible side effects.
Veneers are very comfortable. In fact, once they have been in place for a few days, most patients do not notice them.
When you brush and floss every day and do not put excessive force on your teeth, porcelain veneers can last for years, as they are much stronger than composite resin.
When compared to dental crowns, porcelain veneers typically carry a smaller price tag.
If desired, you can also combine veneers with other cosmetic procedures. Our doctors can even use this treatment as part of a customized smile makeover to provide dramatic results.
Aesthetic Advantages of Veneers
In addition, porcelain veneers also offer a wide range of aesthetic advantages. For example:
Porcelain veneers can conceal chips, cracks, intrinsic discoloration, and other surface imperfections – all in one treatment.
These restorations can alter the shape and size of the teeth for a more uniform appearance.
Thanks to the large selection of colors, it is easy to customize veneers to match your smile.
Advanced dental materials reflect light in a similar fashion as natural tooth enamel, offering lifelike translucency.
Porcelain veneers are stain-resistant, and are not prone to dental discoloration.
Often touted as "instant orthodontics," porcelain veneers can give the appearance of a straighter, more balanced and beautiful smile.
How Are Porcelain Veneers Placed?
After your initial consultation to begin planning your treatment, veneers placement typically takes place over two appointments. At the first visit, one of our doctors will reshape your teeth, removing a very thin layer of enamel to make more room for the veneers. Then your practitioner will take impressions of your reshaped teeth, which our lab will use to design your restoration. Temporaries may be placed at this appointment.
When the veneers have been fabricated, we can schedule your second appointment. At this time, your dentist will use a mild solution to gently roughen the surface of your teeth. By increasing the surface area, he can improve the strength of the bond. Then your doctor will apply a bonding solution and attach the porcelain with a specialized dental cement. After this material is hardened with a curing light, you can expect to enjoy a near-flawless smile, and your dental function should be completely normal.
Immediate and Lasting Results
Once the veneers are in place, patients can experience a dramatically enhanced smile right away. Veneer placement requires zero downtime, and unless sedation was administered, individuals can drive themselves home immediately after their appointment.
Veneers have become one of the most popular cosmetic dentistry options available today, and they offer a number of benefits.
Due to the treatment process, patients may experience some degree of sensitivity for the first few days. However, these sides effects should diminish quickly. Veneers are incredibly strong and durable. Their average lifespan is about 10 years, but with proper care, they can last upwards of 20 years.
Caring for Your Porcelain Veneers
To maintain your new restorations (and your investment) for many years to come, it is important to follow a few important guidelines. We recommend that you:
Commit to routine dental visits: Restorations are not susceptible to decay like natural teeth. However, it is important to understand that the underlying tooth structure can still be damaged by cavity-causing bacteria. Therefore, patients should attend regular dental visits to maintain their oral health and help the doctor detect any potential problems early on.
Practice excellent at-home hygiene: At-home care is just as important as professional dental visits. Patients should brush at least two times every day and floss once daily. An antibacterial mouthwash can help keep harmful microbes at bay and prevent bad breath.
Avoid extreme force: We strongly discourage using your veneers (or natural teeth, for that matter) to open packages, tear tags off of clothing, or groom your fingernails. Excessive pressure and force can damage your veneers.
Consume dark-colored foods and beverages in moderation: Porcelain veneers are stain-resistant, but the dental cement used to bond them into place is not. Consuming foods and beverages like coffee, tea, berries, and red wine can discolor your restorations and leave your smile looking lackluster. Limit your intake of these staining agents, and try sipping coffee and tea through a straw. This will limit the amount of time the liquid comes in contact with your veneers.
Schedule a Cosmetic Consultation
Since 1986, Fairfax Family Dental Care has provided top-tier services for those in our community. We strive to deliver the most conservative care available, and will not recommend treatment that our patients do not need. We are proud to affect CareCredit® financing to help patients pay for out-of-pocket costs. Contact us online to find out how veneers can give you the smile you have always dreamed of. You can also call (703) 385-0303 to schedule your consultation or to speak with a member of our staff.