The dentists at Fairfax Family Dental Care always try to save a damaged tooth, but sometimes tooth extraction is needed.
Our Fairfax, VA, practice uses gentle methods and calming sedation to make tooth extractions as stress-free and comfortable as possible.
Experiencing jaw or tooth pain, even late at night or on a weekend? A tooth extraction by one of our skilled dentists can help bring relief.

Reasons for Tooth Extraction
Patients of all ages may need to have a tooth extracted at some point in their lives. Here are a few reasons why we perform extractions at Fairfax Family Dental Care:

A baby tooth or multiple baby teeth did not fall out before a child's permanent teeth began to erupt.

To improve a crowded smile in preparation for orthodontic treatment like braces or Invisalign®.

A tooth has come loose due to an infection of the gums or surrounding bone tissue.

An infection in a tooth has damaged its structure so much that antibiotics or root canal therapy cannot save it.

Wisdom teeth are coming in crooked or are trapped under your gums or in your jaw.
A Tooth Extraction Can Improve Oral Health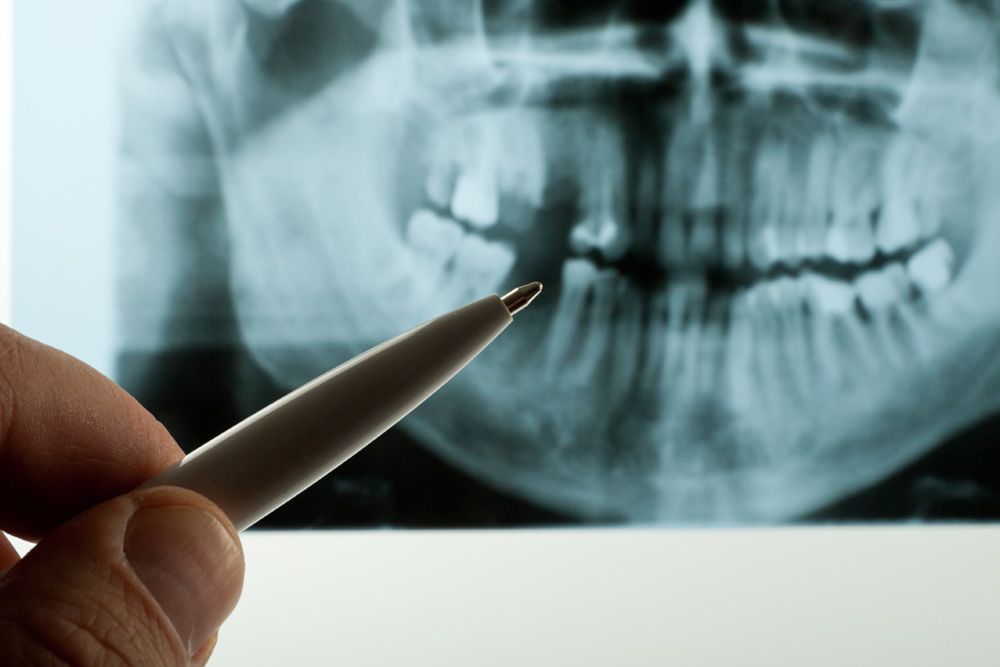 Is Your Toothache an Emergency?
Do You Have a Severe Toothache?
Contact Us to See If An Extraction Is Needed
Our skilled dentists, Dr. Charles D. Kirksey, Dr. Milan Simanek, and Dr. Touraj Kamali, pride themselves on being available when our patients need us, whether it is during regular business hours, late at night, or on a weekend. An exam at our warm and welcoming family dental practice in Fairfax, VA, can pinpoint the cause of your oral pain.
New patients are welcome to come in for a free initial consultation. X-rays and 3D CBCT imaging may cost extra, however.
Experience the compassionate, superior dental care our dentists have provided the Fairfax, VA, area since 1986. To see if a tooth extraction or another treatment can ease your discomfort, use our online form to schedule an appointment. You can also reach us by phone.
Wonderful Reviews
from Our Family of Dental Patients
Great service and a wonderful experience! My Dental hygienist was courteous and professional. The doctor was knowledgeable, prompt and patient with all my questions and concerns. FFDC is my new primary dental care office.
View on Google
My wife, 5-year old son, and myself visited this practice for the first time and we were impressed. No wait, quality service, and very knowledgeable staff. Ms. Elaine and Dr. Kamali were great. I recommend
View on Google
Why Do Wisdom Teeth Need Extraction?
Wisdom teeth, also called third molars, erupt in our late teens or early twenties. They can grow in crooked or become impacted under your gums. Even when they erupt correctly, they serve no real purpose and should be removed by one of our experienced dentists.
Reasons to extract wisdom teeth include:
Wisdom teeth can cause crowding and spacing issues, and knock existing teeth out of alignment.
Bacteria can get trapped around an impacted wisdom tooth, which can cause an infection.
A stuck wisdom tooth can create a painful cyst under the gums, which can damage jaw tissue and tooth roots.
It is hard to brush and floss wisdom teeth as they are so far back in the mouth. This can lead to tooth decay.
Since our Fairfax, VA, dentists are extensively trained to remove wisdom teeth, it eliminates the need for you to see an outside oral surgeon.
Tooth Extraction Can Stop Wisdom Teeth Issues
Our dentists will make this worthwhile procedure as painless and comfortable as possible.
Can You Explain the Tooth Extraction Process?
Your comfort is our number one priority. If you are anxious about oral surgery or have issues with sitting still for long periods, we offer various dental sedation options. When combined with local anesthetic, sedation can keep you calm and pain free during the procedure. Your extraction options are as follows:
Non-Surgical Extraction
When performing a simple extraction, your dentist will gently rock the tooth back and forth within the socket and remove it using forceps. With the tooth extracted, gauze will be placed over the socket. You will be asked to bite down on the gauze to encourage a blood clot to form. This blood clot is important as it protects the extraction site and aids in the healing and recovery process.
Surgical Extraction
For an impacted wisdom tooth, your dentist will make incisions in your gums to access the tooth. Bone tissue may also need to be removed during this procedure. The tooth will either be rocked back and forth to loosen it, or broken up into small pieces for easy removal. Self-dissolving stitches will be used to close the incisions. Once again, you will bite down on gauze to form a protective blood clot.
Tooth Extraction Recovery
Most patients need a few days to recover after a tooth extraction. Our dentists may provide pain medication to relieve any discomfort. A cold compress can be applied against your cheek to minimize swelling.
Instead of brushing your teeth, gently rinse with salt water or mouthwash for 24 hours after the extraction. Avoid drinking through a straw for at least 48 hours. These actions can dislodge the blood clot from the extraction site, exposing the bone tissue and nerves. This painful condition is known as dry socket.
During your short recovery, you should stick to eating softer foods and stay away from anything hot. Avoid chewing on the side of your mouth where the tooth was extracted to help minimize swelling and help any post-op pain subside.
I Had a Tooth Extraction
Now What?
If you've had an incisor, canine, premolar, or molar extracted, our dentists will recommend that you get a lifelike restoration. This dental restoration will fill the tooth gap and restore your ability to bite, chew, and speak normally. We offer beautifully customized bridges and dentures, as well as appliances that are firmly supported by dental implants, which are artificial tooth roots that are anchored into your jaw.
An implant can also support a high-quality dental crown for single-tooth replacement. And since our dentists can perform the same surgical procedures that an oral surgeon can, you can save time and money by having your extraction and dental implant treatment done right here at our Fairfax, VA, office.
What If I Don't Replace an Extracted Tooth?
Serious complications can occur. This may include:
A visible gap in your smile.
Teeth on either side of the tooth gap shifting and becoming loose.
Changes in bite alignment, leading to pain or wear when you bite and chew.
Bone loss in the jaw around the tooth gap, which is also known as jawbone atrophy.
Speech impediments and difficulty pronouncing certain words.
Our practice accepts many kinds of dental insurance, which can cover some of the cost if the extraction was done for medical purposes. We also accept financing through CareCredit®, a trusted lender that breaks out-of-pocket fees into low-interest monthly payments.
We Thank Our Patients
for These 5-Star Reviews
I put in an emergency online request near midnight on a Friday and was shocked to receive a call in minutes. I'm not sure who I spoke to but Dr Kamali and his staff were wonderful performing my root canal the following morning. Medications were ready at the pharmacy on my way home. I'm very grateful and happy with the professional, compassionate care I received.
View on Google
I love this practice! I started going because of a dental emergency. Dr. Kamala (Not sure I'm spelling that right) took great care of me, and the members of his staff were kind, funny, and gentle. I've been back for a cleaning and was amazed at the gentle touch and straightforward advice. Nobody made me ferl like i am a terrible persom fot not flossing enough. They didnt teach me how to floss which i find so condescending! Nobody likes going to the dentist, but Fairfax Family Dental makes it a positive experience. I highly recommend them!
View on Google